---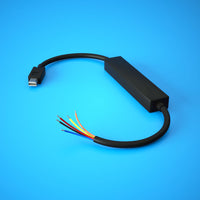 PROLINK for MPVI2
Designed specifically for the MPVI2, the PROLINK cable, together with Pro Feature Set, allows the professional user to input 2x analog signals (from a wideband sensor, MAP sensor, etc) and 1x CAN bus signal, simultaneously.
Reminder: You must purchase Pro Feature Set to be able to use a PROLINK cable.
Read how to add PROLINK analog and CAN bus Inputs in the VCM Scanner help center.
How do I purchase PROLINK?
PROLINK will be provided FREE of charge (plus shipping) with the purchase of Pro Feature Set. However, if you would like additional PROLINK cables for multiple vehicles, you can purchase them here.
Pro Feature Set
Pro Feature Set is a software upgrade that enables standalone data logging and the use of PROLINK for MPVI2 and MPVI2+ interfaces. Learn more.
Specifications:
2x dedicated 0-5V analog inputs
1x CAN bus input (500kbps)
100Hz sampling rate
HPTnet cable (male) to 5-wire harness
For MPVI2 ONLY